PLG Ocean services are Customized solutions for your specific ocean freight requirement.
Our extensive and long-term relations with shipping lines mean we can provide you with access to a global carrier portfolio, covering major ports, with the best transit times, fully flexible scheduling and space protection agreements to meet your individual shipping needs.
PLG can offer a flexible range of Ocean Freight services for both Less-Than-Container Load (LCL) and Full-Container Load (FCL) shipments. These are backed by comprehensive Ocean Freight Management Services as well as Break-bulk, Project Forwarding, Partial and Full Charter Services.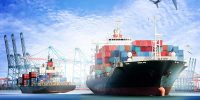 Regardless of the size of your business, our dedicated implementation teams will ensure a smooth and quick introduction to our systems while with PLG Trak you will always be up-to-date on the current status of your shipments.
If you need a partner for your supply chain – or a part of it, chose Partnerlog Group.
Our team of Ocean Freight experts provide professional consultation and tailor made solutions; they use their deep understanding of the nuances of cargo flows to provide the answer to your ocean freight needs. We negotiate competitive freight space agreements with the world's leading shipping lines and pass the benefits on to all our customers. We will ensure the cost-efficient arrival of your cargo and a fully integrated range of support services means you can trust PLG to deliver.
The Key elements of our FCL service:
Multiple weekly bi-directional sailing options between key ports pairs
Customized service solutions on every trade lane
Door-to-Door services worldwide
Customs Brokerage
Buyers consolidation FCL management
Deconsolidation services
On water inventory planning
Distribution of goods
Ocean Freight as component of a Supply Chain Solution (SCS)
Freight Management Service
Wherever you operate we have the operational expertise and analytical know-how to provide consistent reliability, speed and flexibility to ensure the safe arrival of your goods.
Need to keep your supply chain moving, but do not have sufficient volume or time to fill a Full-Container-Load? PLG offers cost-effective door-to-door services for these shipments through our Less-than-Container-Load (LCL) product providing competitive transits and reliable sailing schedules.
PLG LCL provides services featuring:
Operations in over 170 countries
Global access to over 40,000 port pairs
Competitive pricing
Direct or maximum one-stop routings providing fast and reliable transits
An in-house operated global gateway network
Door-to-door service capabilities including our own domestic trucking networks in the USA and China
Full track-and-trace information
In addition to our standard LCL services, PLG can combine them with additional services including:
Single-country and multi-country buyers' consolidation
Freight Management Services - providing forwarding services on direct customer contracts
Customs Brokerage and Trade Compliance Consulting
SCS Supply Chain Solutions Management offering comprehensive end-to-end solution designs
Maritime cargo insurance
Connect with your local ocean freight teams who will develop the right individual solution for your business.
Where customers transportation requirements exceed the limitations of containerized transport we provide tailor-made solutions through our global chartering team.
Among the principal services available are:
Market scanning for cost and available tonnage with world's leading project carriers, making use of PLG's buying power
Individual tailored service solutions for each and every transport requirement
Multiple alternatives each with their own price quality ratio
Customs brokerage
Door-to-door services worldwide
Customs Brokerage
PLG's customs clearance operation is one of the most extensive and experienced in the logistics industry. Around the globe, we offer a comprehensive portfolio of regulatory compliance services, led by our highly compliant and well respected import customs brokerage services. Our expert teams and advanced systems ensure that the necessary government declarations are completed accurately and on time for your import and export shipments so that we minimize the risks associated with moving freight across international borders.
As a licensed customs broker, we recognize our obligation to act responsibly on behalf of our customers in our declarations to government agencies. PLGs brokerage team will facilitate the smooth and timely movement of your merchandise through current and future government reporting requirements. This attention to detail and our progressive approach to customer service deliver valuable competitive advantage to your global supply chain.
Ocean Freight Transportation Services
PartnerLog Group shipping services is a renowned name in the field of the shipping industry. It is a fully licensed NVOCC (Non-Vessel Owning Common Carrier) ocean freight forwarder. It operates from all the major global ports, and services of PartnerLog Group shipping could be availed from all these ports.PartnerLog Group shipping services have entered into a contract with most of the prominent shipping lines as well as consolidators. Hence, they can provide weekly ocean shipping on request.
Key Freight Services:
Full Container Load (FCL):
If you think your cargo is valuable enough, for not to be shipped with other cargo (LCL), then opt for FCL. With the FCL you can utilize the complete container for your cargo, rather than sharing with others. Also, if the cargo load is larger then again FCL is the best option. A larger load would be typically more than 12 pallets.
Less than Container Load (LCL):
If you are shipping your cargo through LCL shipping, then you have to share your container space with others, who will also use the same container for shipping their cargo. Since the container is shared with others, the cost of shipping is much lower in LCL than FCL. Thus, LCL is considered a cost-effective solution if budget is the constraint. Also, in case you are shipping smaller loads then LCL is the best option.
Reefer Containers:
If you are looking to ship well overseas, in a temperature-controlled container or refrigerated containers, then we can provide the same. Often goods are needed to be prevented from humidity and spoilage, and temperature-controlled container or refrigerated container could be the best solution for this. The goods can be shipped at the ideal temperature, which will make sure that your shipped item will reach the destination as it is. So, you can set the temperature as moderately cool or even below the freezing temperature, whatever is suitable for the item.
Hazardous Containers & Dangerous Goods:
Some of the goods that can be classified as dangerous include explosives, pharmaceuticals, flammable liquids and solids, gases, dry ices, oxidizing substances, corrosive substances, lithium batteries. The good thing is, we are Dangerous Goods Certified. This means we can transport goods which are classified as hazardous and dangerous, to the destinations safely. We make sure that all the regulations, mandatory in the US as well as across the world comply accordingly.
Roll-on, Roll-off (RoRo):
If you have items which are of the type of roll-on, roll-off cargo, then we can ship that as well. This includes items like automobiles, tractors, trailers, motor homes or any other equipment or machinery on wheels. In short, any form of equipment or machines that can be easily rolled on or rolled off can be shipped by us. We take utmost care while shipping these items so that they are not damaged in transit.
Container Loading & Unloading:
We ensure that all containers are loaded as well as unloaded safely from the vessels. We also offer our ground shipping network for the safe transport of the goods to the final destination.
Transloading Container Trucking:

Our translating services help our customers to eliminate warehousing costs. It also helps them to meet just in time delivery demands. What this means, as soon as the cargo reaches the ports, it can be loaded onto one of our own trucks and delivered straightaway to the destination.
Warehousing & Distribution:
We have our own bonded warehouse space in multiple ports located across the worlds as we in the US. With the help of this, we make inventory management and distribution much more efficient.
Shipping Documents for Importing and Exporting:
There are multiple documents which are necessary for completing an import and export process. Sometimes, obtaining these documents could be a painful task. This includes all important documents like insurance and letter of credit. We are an experienced freight forwarder, and we help you to smoothen this process. We will provide you the bills of lading, along with all the necessary documents that will ultimately help you to complete the import and export process.
Cargo Insurance:
Insurance is a definite requirement for cargos so that it can be protected against any form of loss or damage, while they are in transit. Cargo insurance can protect your goods from storms, seawater flooding, acts of gods, vessel collision or any other forms of unforeseen events. We provide multiple options for cargo insurance, and you can select a one based on your requirement.
Why Choose PartnerLog Group Shipping over Other Freight Forwarders?
Secured Global Network: We provide a secured global network for our customers. We are members of both the WCA Family and the Lognet Independent Global agents. That is why we offer these services across the globe. As a member of Lognet Global Logistics network, we are committed to providing quality logistics solutions with a personal touch with local expertise, that is required for successful shipping with constant communication across the globe.
Competitive Pricing: We are an experienced player in this field, and because of our prolonged experience we have developed connections in the freight forwarding industry. With the wealth of our experience and connections, we have created a global shipping network, that ultimately allows us to offer competitive pricing to our customers.